Get your teeth into your brand
Sustainability and the reduction of our environmental footprint are becoming increasingly important, both in everyday life and in business. More and more companies are committing to sustainable and socially responsible enterprise. Taking care of your company is taking care of your personnel AND your environment. We want to help you take this vision further, including in your marketing.
Logofruit® is a healthy and environment-friendly way to spread your advertising message and spotlight your company, or give it away as a promotional gift, at an event or open-door day, at the launch of a new product or just to thank your employees. The choice is yours.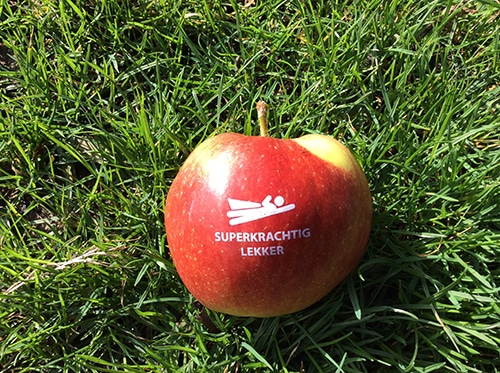 An apple or pear bearing your logo is not only eco-friendly, it's original too. No one takes any notice anymore of yet another pen or mug. So why not opt for a surprising, green alternative? Furthermore, our logoapples help limit the gigantic mountain of waste – they are completely zero waste. 
It's entirely up to you what you want printed on your logoapples. It can be anything you like. Everything is possible, as long as it fits into a 3.5 cm circle. Whether it's your logo or messages like "Visit our website", "Take a look in our shop", or just "Welcome" or "Best Wishes", we can do it.
For private individuals too!
Logofruit® is the perfect gift for your guests at any type of event: a wedding, the birth of a baby, a birthday party, first communion or confirmation, you name it.
So, even as a private individual you can order our logoapples. We will deliver them to your home or directly to the venue.
Our logoapples can be ordered from 50 pieces for delivery within Belgium and Luxembourg. We deliver from 300 pieces abroad.
Be sure to also take a look at our library. Here you can find all our already existing clichés. Found what you were looking for here? Then your cliché cost will be reduced to zero.
Give your event, show or marketing giveaway that little bit extra with Logofruit®!
Complete our quote form, upload your logo, image or text and we will send you a quote AND a picture of your logoapples.